#TaraTari – New journey for jute – Daily Star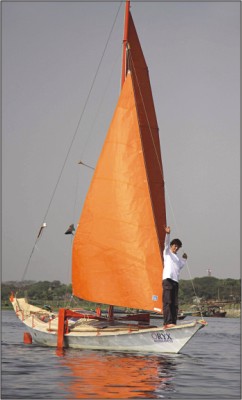 Frenchman Corentin Dechatelperron, a 26 year-old engineer yesterday started a solo voyage to France from the Bangshi river in Savar on a sailboat made from locally manufactured jute and glass fiber.
The eight-meter by two-meter boat called Taratari (go swiftly) was developed at the dockyard called Taratari at Savar. An NGO called Friendship and Bengal Foundation jointly sponsored the whole procedure of research and building. The organizers are confident the jute fiber component of the boat, which covers 40 percent of the structure would revive country's ailing jute sector.
« This is for the first time in the world that an unsinkable boat has been built with jute fiber, which the young man would navigate across the seas for the next six months before he reaches France, » said Yves Marre of Friendship at a press conference at Bangshibari, a riverside resort of Bengal Foundation prior to start of the long voyage.
Once in the Bay of Bengal near Kuakata, Corentin would first sail to Sri Lanka and then proceed to Oman, Egypt and finally France through the Suez Canal.
« I am very excited about the voyage and I am also delighted to be able to represent Bangladesh with jute fiber, » said Corentin.
Yves Marre narrated how he had in 1994 arrived in Bangladesh from France navigating a river barge which was later converted into Lifebuoy Friendship Hospital, treating thousands in rural Bangladesh every year.
Yves Marre is also known for his endeavor to create a boat museum documenting an age-old rich tradition of boat building in the country. He explained how he got the idea of building unsinkable boats and said that following cyclones he found out that in every village along the coastal areas of Bangladesh scores of fishermen lost their lives when their fishing boats capsized.
« We traveled to Kuakata and had a close look at the fishing boats there. We then replicated those fishing boats with fiber glass and turned them unsinkable, » he said. Marre revealed that Friendship and Bengal Foundation would soon have a dockyard where up to 30 boats would be built a month for the fishermen in coastal areas.
« The boat in which Corentin is traveling is a replica of fisherman's boat in Kuakata top of which (sealed 1.2 by 2 meter compartment) is made of jute fiber, » Marre said.
Corentin said that for his long journey he is dependant on various modern equipment such as solar panels, updated global positioning system, computer and satellite phones. He said his boat is also equipped with a small emergency motor with 40 liters of diesel. All equipment was donated by sponsors, he said.
« I feel great to take up such a voyage and hope that people from all around the world would come forward to help Bangladeshi fishermen build unsinkable boats, » he said.
By Morshed Ali Khan
http://www.thedailystar.net/newDesign/news-details.php?nid=126202